Large format photography equipment: odds and ends
Compiled by Q.-Tuan Luong for the Large Format Page
---
The Zone System wheel
PDF document and picture by Luca Paradisi 7/99
A better air release
PDF document by Larry Huppert 3/99
Electronic flash modification to classic Graflex flashgun
By Tony Brent 3/99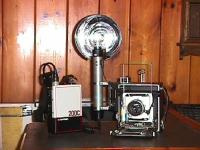 I modified a Graflex #2773 3-cell flashgun battery case to accept the flash tube and electronics of a Norman LH 2 200 W/S lamphead powered either by an AC Norman 450 series power supply or the 200C portable battery supply.
The aim of the project was to make no external changes to the Graflex battery case. I was able to accomplish this to my satisfaction. The case mounts the 7" reflector in the standard way, and accepts the sync cord in one of the sockets on the multi-plug unit. The only obvious differences are the addition of a neon ready light in place of the rotary selector switch, and the strobe flash tube in its socket mounted in the existing screw base receptacle.
I had the Norman battery portable unit already in my posession, and kept looking at its dimensions with the idea of making a "period" flash gun for the Speed Graphic I use on various assignments. I couldn't justify the cost of flashbulbs now that they are somewhat costly, as compared to the days when they were literally "a dime a dozen."
The Norman flash tube plugs into a standard 4-pin vacuum tube socket, which is exactly the right size at its base diameter to make a snug fit in the screw base socket. With some re-working, the small number of triggering components in the LH2 flash head fit very nicely inside the #2773 battery case.
The headscratching was over how to keep the multi plug unit and make it functional for electronic flash. It didnt need much other than reworking the bottom contact by removing two of the three contacts and filing to clear the wires passing up to the flash tube. Holes were drilled through the now-vacant contact locations to thread wires up to the flash tube socket. I removed all but one of the switch contacts, and attached the trigger lead to it, enabling the switch to manually fire the flash, as before.
It was a little tricky figuring a correct re-assembly sequence, since I had to work from both ends at the same time, and make sure I remembered to put everything in place before buttoning it all up.
Since I work as a news stringer, I occasionally take the speed Graphic on an assignment. This is going to knock their socks off. Weege is back!
---
luong@ai.sri.com